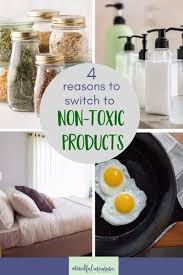 A while back I did a post on my favorite "clean" or toxic free products. I'm reposting and adding to it. Why focus so much on the products we use? Unfortunately our modern environment is bombarding us with toxins. These toxins cause endocrine and hormone disruptions. They also have adverse development, reproductive, neurological, and immune effects. Toxins can cause inflammation and gut imbalances and other irregularities in the body.
 I know this is a little depressing, so how do we make changes? What products do we change to? I've done a lot of research and I'm going to share ideas to both these questions. First, start small and continue to make changes over time. For example, start with body products, toothpaste, household cleaners, use glass instead of plastic, buy organic, change detergents. I started with what I put on my body (soaps, shampoos, deodorant, oils/lotions), I then explored what I was putting IN my body (were my foods organic, toothpaste, drinks, supplements). Next came household products. Check out some of the articles Branch Basics has. They're very helpful on giving you a framework for "Tossing the Toxins." 
Here are some of my favorite clean products:
Body Products (Soap, shampoo, and more)  I love this company!
More Soaps and Cleaning Products (I use some of their products for dish soap, cleaning the gym).
Toothpaste/Other Products (I've only used their toothpaste but they have quite a few products).
Make Up (I'm not a big make up person, but if I wear it, I love how light their products are).
Laundry (I love that they don't have wasteful plastic bottles!)
Cleaners and More (They have great articles on toxins and how to start, "tossing the toxins.")
Cookware (I know this can get expensive, but they usually have some sort of deal going. When I thought about how much I cook, this became critical to me.)
Clothing (In all honesty, I don't focus on this area as much as I should. Since I live in gym clothes, I am gradually replacing old items with pieces from here.)
Dog Food (Couldn't forget the pups…they have cat food too)
Deodorant (We all have different needs here so I listed two different ones I've tried.)
Great Resource For Clean Products (This is a place to go and search products. They pride themselves on knowing which products are safer and healthier. If you see their mark on products, they claim you can be sure it's free from the chemicals that concern them and it meets strict health standards.)
Hope this helps give you some inspiration to look at the toxins in your life and make some small changes! A lot of these links make great gifts too 😊. Enjoy "Tossing The Toxins."